Limited-Run "Mel Brooks Radio" Channel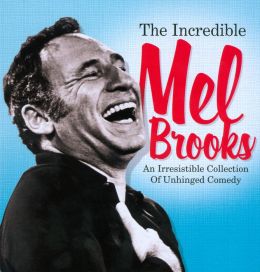 "Mel Brooks Radio" will launch on*Saturday, April 27*at*midnight ET*via satellite on channel 96, as well as via the SiriusXM Internet Radio App for smartphones and other connected devices online at*
siriusxm.com
. The channel will feature Brooks sharing personal stories and anecdotes about the making of some of history's most iconic comedies, including*
Blazing Saddles, Young Frankestein, Space Balls*
and
*The Producers
, which will be released as a Collector's Edition Blu-ray/DVD combo on*July 2
.*
SiriusXM listeners will also hear excerpts from the recently released DVD box set*
The Incredible Mel Brooks:* An Irresistible Collection Of Unhinged Comedy*
as well as songs from the soundtracks of his films.
"SiriusXM's*Town Hall*with*Mel Brooks," which will take place on*Thursday, April 18, will air on the limited-run channel "Mel Brooks Radio," channel 96 (Laugh*USA), on*Saturday, April 27*at*10:00 am ET. For rebroadcast times, please visit*
www.siriusxm.com/townhall
.
Moderated by Apatow, the "Town Hall" special will feature the legendary comedian answering*a variety of questions from the studio audience about his celebrated career, including the new*PBS*documentary,*
American Masters Mel Brooks: Make A Noise
, which is scheduled to premiere on*May 20, and will be released on DVD on*May 21.
"I grew up listening to the radio, so it holds a special place in my heart.*I'm thrilled to be on SiriusXM and only wish I could have listened to 'Mel Brooks Radio' when I was a kid, but of course physics got in the way," said*Mel Brooks.
"We know we are on firm ground describing*Mel Brooks*as a comic genius of legendary proportions and we are honored to have him meet our subscribers in an intimate setting," said*Scott Greenstein, President and Chief Content Officer, SiriusXM. "What makes it even better is having*Judd Apatow, one of the most successful directors of comic films in the last decade, moderate the special. Bringing these two comic stars together is the kind of great chemistry we look for with our 'Town Hall' series."
The special is part of SiriusXM's "Town Hall" series, intimate gatherings with iconic musicians, entertainers and figures and a studio audience of SiriusXM listeners. Previous "SiriusXM Town Hall" specials have featured*Bruce Springsteen,*Willie Nelson,*Billy Crystal, Tom Petty,*Tony Bennett,Quentin Tarantino,*Carol Burnett, Taylor Swift,*Aerosmith, Coldplay,*Ringo Starr, Roger Waters,*Gregg*Allman, Crosby, Stills and Nash and the surviving members of Nirvana.
After the broadcast, "SiriusXM's*Town Hall*with*Mel Brooks" will be available on SiriusXM On Demand for subscribers listening via the*
SiriusXM Internet Radio App
*for smartphones and other mobile devices or online at*
siriusxm.com
. Visit*
www.siriusxm.com/ondemand
*for more info on SiriusXM On Demand
---
View the original Article at Digital Radio Magazine
or discuss it here.