Show #13 started off with Dan Foreman(the producer) giving a description of what was to follow on tonights show. He read off a list of guests and taped segments while partially hiding behind an 8x10 black and white head shot of himself. The only part of Dan that wasn't hidden was his lips, as you can see here.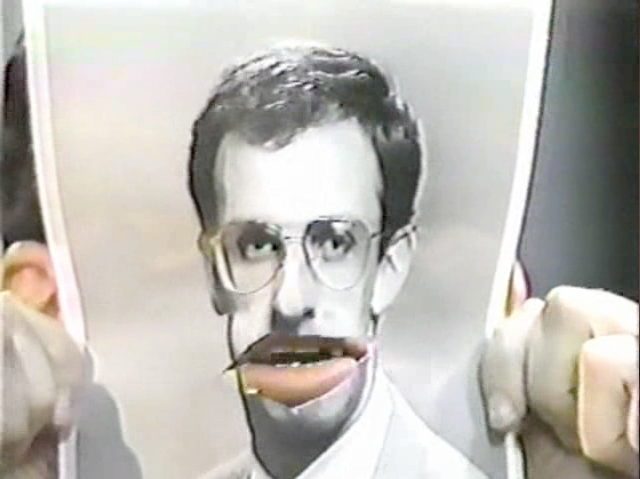 After Dan rattled off the last of the guests he took his picture quickly away and asked everyone in the studio, "What's so funny about that?"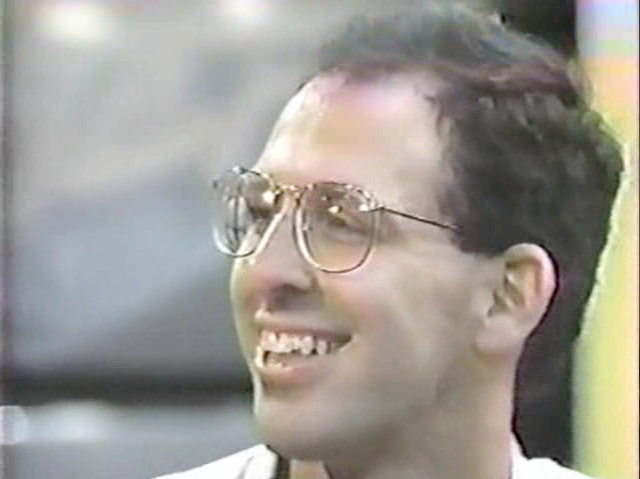 Howard came back from the opening montage stating that Dan was the "Alfred E. Neuman" of the show. Howard told Robin that he was tired of being #2 in the ratings and that he was going to add more sex into the show. Howard brought out Amy Lynn, Sandy Corn(Sandy Taylor) and Kimberly Taylor to jump up and down on little trampolines. The segment turned out to be a bit of a bust(sorry)because one of the girls didn't know how to use a pogo stick.
Howard said that they had "retarded aerobic girls".
None of the screen captures of the girls were very good, just way too blurry to include here.
Howard switched gears and asked Gary to put on his new mask. Gary obliged with only a little bit of questioning. Gary didn't know what the strap in front of the mask was used for, Howard said it was there in case Fred wanted to hit him.
Before going to commercial, Howard became more involved with the girls on the trampolines.