Quote:
Originally Posted by
7Aaron
There's a lot of pressure on USA Basketball to win the Gold.
It won't be pretty if they come home with anything less, like the Bronze medal in 2004.
You're right, it wouldn't be pretty...but it wouldn't be shocking either, like it was in Athens. I think USA basketball is quite aware now that the rest of the world has closed the gap tremendously in the past 10+ years. Team USA can't just put together a team of All-Stars, throw them out on the court, and expect to win the gold anymore. Hence, the mandatory three-year commitment from each of the players on the current roster. With that said, Jerry Colangelo has done a wonderful job of putting together this team. A lot more preparation and planning has gone into the 2008 team, compared back to the '04 team. I do expect them to walk away from Beijing with the gold, but it won't be easy...it probably will never be again.
There will never be another "Dream Team" like we saw in 1992 at Barcelona. For one, like I said, the international talent level is far superior to what it was in '92...Team USA's average margin of victory was 43.8 points! Second, there will never be another group of talent assembled that can measure up to who was on the Dream Team. Yes, Magic and Bird were past their primes, but think about who else was on that team. Michael Jordan, Karl Malone, John Stockton, Charles Barkley, Clyde Drexler, Patrick Ewing, etc, etc, etc. The Dream Team was, is, and will always be...the best team ever.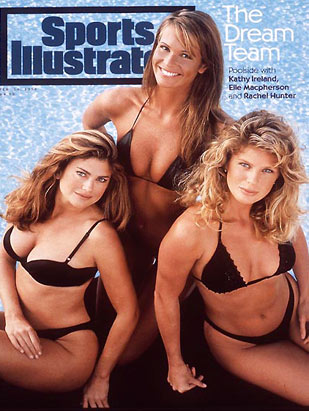 No, no... not
THAT
Dream Team....
THIS
one...
Wow, how out of place does Christian Laettner look?
.